Paneer Open Sandwiches (Low Calorie) Recipe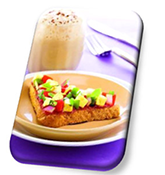 Paneer open toasted sandwiches, a zesty topping comprised of low-fat paneer and vegetables adds spice to nutritious whole wheat toasts. A great teatime snack providing nearly 138calories for two sandwiches, these are best accompaniment by a hot, sugar-free beverage!
Preparation Time: 10 mins
Cooking Time: 10 mins
Baking Time: 6 minutes
Baking Temperature: 200ºC (400ºF)
Ingredients
4 whole wheat slices , toasted
4 tbsp tomato ketchup
For The Topping
1 tsp oil
1/4 cup finely chopped onions
1/2 tsp finely chopped ginger (adrak)
1/2 tsp finely chopped garlic (lehsun)
1/4 cup finely chopped capsicum
1 to 2 green chillies , finely chopped
1/2 tsp turmeric powder
1/2 tsp black salt
1/2 cup grated low-fat paneer
2 tbsp chopped coriander (dhania)
2 tbsp chopped mint leaves (phudina)
1 tsp lemon juice
salt to taste
Method For the Topping
Heat the oil in a deep non-stick pan, add the onions, ginger and garlic and sauté on a medium flame till the onions turn translucent.
Add the capsicum, green chillies, turmeric powder and black salt, mix well and sauté on a medium flame for a minute.
Add the paneer, coriander, mint leaves, lemon juice and salt, mix well and sauté on a medium flame for another minute.
Divide the topping into 4 equal portions and keep aside.
How to Proceed
Remove the sides of the toasted breads, spread 1 tsp of tomato ketchup and top with a portion of the topping.
Grill in a pre-heated oven at 200ºc (400ºf) for a minute. Serve hot.